The Air Traffic Management (ATM) Twin project, developed by Thales and the Civil Aviation Authority of Singapore (CAAS) in the joint AIR Lab, was honored with the 'Minister's Innovation Distinguished Award for 2022' for Research & Development of ATM Twin. AIR Lab is a joint research lab by CAAS and Thales created to drive ATM innovation and adoption of new technologies. Since its inception in 2019, the AIR Lab team has grown, now hosting more than 50 members comprising ATM experts, air traffic controllers, developers and engineers.
The ATM Twin project is a ground-breaking initiative that plays a vital role in developing future ATM capabilities. The CAAS and Thales team recognised the importance of rapid innovation in the complex ATM environment and have been working closely on this project since March 2021.
The ATM Twin is a cloud-native platform designed for ANSPs (Air Navigation Services Providers) to prototype, analyze live and historical data and improve their operations quickly and safely. By mirroring an entire ATM system virtually, air traffic controllers can engage in what-if scenarios , optimize their workflow and try new functionalities and configurations.
AIR Lab has fostered synergies between CAAS and Thales engineers and developers by combining the expertise of both entities to create the ATM Twin that is tailored to the local operational needs. The participation of the Air Traffic Controllers (ATCOs) from CAAS through workshops has been key to extract value from the use cases.
By leveraging Thales global innovation network, the project has seen significant overseas contributions in key building blocks such as the SkyASD, from the innovative SkyLab France in Rungis which has been evolved and integrated into the ATM Twin.
Innovation is a fundamental value at Thales. It has always been an essential part of the Group's history and it is critical to its present and future success. Thales is proud to have been recognized through this project as a valuable partner for CAAS in the research of innovative ATM projects for Singapore.
The recognition of the ATM Twin project with the 'Minister's Innovation Distinguished Award for 2022' for 'Research & Development of Air Traffic Management (ATM) Twin' is a demonstration of the successful dedication and commitment of the joint CAAS and Thales team in pushing the boundaries of innovation in the ATM industry.
Both organizations are collaborating through AIR Lab to accelerate innovation and to enable a greener aviation. The ATM twin will play a key role in advancing key topics such as Trajectory-based Operations (TBO) and in incorporating new technologies within the security and safety constraints of the ATM domain. The collaboration will foster the adoption of greener aviation practices to reduce carbon emissions such as the Continuous Descent Operations (CDO) tool that is currently under development in AIR Lab.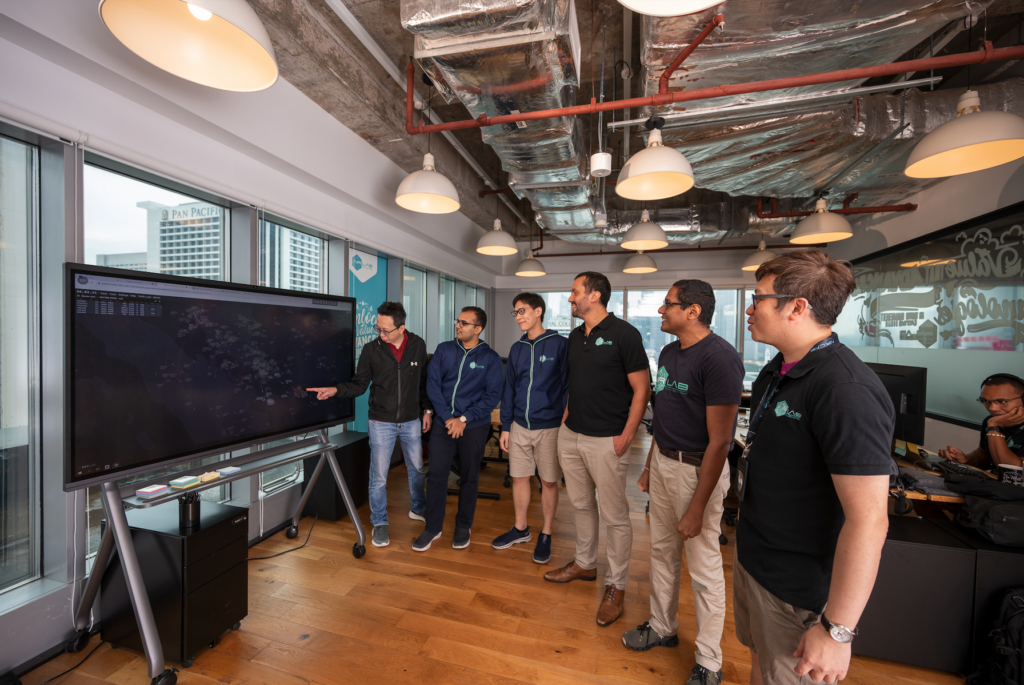 About AIR Lab, CAAS and Thales
In September 2019, CAAS and Thales signed a follow-up agreement on the sidelines of the International Civil Aviation Organization (ICAO) Innovation Fair in Montreal to establish a joint lab, focusing on the development of an Open ATM system architecture. Since then, AIR Lab has been exploring advanced and open technologies to advance the future of air traffic management. Leveraging Open Architecture, Artificial Intelligence and develops its Green Aviation Proof of Concept. The AIR Lab brings together multiple stakeholders in the ATM value chain – from air traffic controllers to AI experts, to software engineers and local start-ups – creating a veritable sandbox' where the team can experiment and co-create the future ATM technologies.
The mission of the Civil Aviation Authority of Singapore (CAAS) is to grow a safe, vibrant air hub and civil aviation system, making a key contribution to Singapore's success. CAAS' roles are to oversee and promote safety in the aviation industry, develop the air hub and aviation industry, provide air navigation services, provide aviation training for human resource development, and contribute to the development of international civil aviation.
Thales is a global technology Leader shaping the world of tomorrow today.
Thales (Euronext Paris: HO) is a global leader in advanced technologies within three domains: Defence & Security, Aeronautics & Space, and Digital Identity & Security. It develops products and solutions that help make the world safer, greener and more inclusive. The Group invests close to €4 billion a year in Research & Development, particularly in key areas such as quantum technologies, Edge computing, 6G and cybersecurity. Thales has 77,000 employees in 68 countries. In 2022, the Group generated sales of €17.6 billion.